Are you fed up coaxing family and friends to mind your dog? Can't imagine the thought of leaving him locked up in a kennels while you are off enjoying yourself?
Leave him in a real home where he will be welcomed as part of the family.


With me as your dog minder your dog will:
Sleep in the house in his own bed
Have the run of a very large back garden
Go for long walks every day by the canal or to the forest
Watch TV at night in front of a nice cosy fire
Learn how to socialise with other friendly balanced dogs
Become a more balanced dog
Regular contact while you are away if desired
Pickup and dropoff by arrangement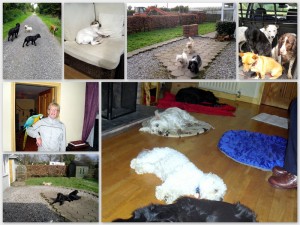 "I have used Rosemarie's services for the past five years or so. My dogs always come back to me in a calmer state of mind, healthier and happier." – Eva
Read more →
Come visit and see my home for yourself. Phone 087 653 7581 for appointment.
Rate: €25 per dog per night.
"I would consider myself quite fussy in wanting the best for my dog and Rosemarie is a consummate professional who ticks every box. I have family members who have also used Rosemarie's services, and all have been very pleased with the service and value for money." – Mark
Read more →